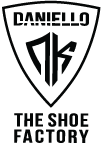 DANIELLO is a family business, passed down from generation to generation. For decades, designing of comfortable shoes has been one of the biggest challenges. In designing some little pieces of shoe-making artwork we aim at putting together simplicity of style, comfort and the highest practical value.
A fundamental factor throughout an overall manufacturing process is quality. From a stage of design until the physical manufacturing of subsequent elements of a shoe we take special care of materials used in production process. DANIELLO companyuses only proven materials from Poland, Italy and Germany in order to assure theutmost quality of our shoe parts. This is precisely for the purpose of achieving the highest possible quality that we avoid using ready-made prefabricates nor letting other companies do it for ourselves.
The entire production of DANIELLO shoes (i.e. designing, cutting out, sewing, making soles as well as assembly works) is completed in a single factory. This gives us a possibility to look after the quality continuously. By merging all stages of shoe manufacturing in one place we are also able to produce some highly irregular lines. A flexible approach to the customer assures a possibility of cooperation with even some most demanding clients.
Thanks to this order of priorities we aim at making modern shoes by using all available materials that improve the comfort of wearing. Manufacturing of shoes by DANIELLO is a unique synthesis of tradition, passed down through generations, and modern technologies. A significant amount of shoes is hand-made finished. A real indicator of our success is an amount of customers who return to our partner shops and start their shopping with looking for DANIELLO shoes.

We have already gained trust of many wholesalers and retail chains, our shoes are on sale in a number of European countries: Poland, Britain, Germany, Ukraine, Latvia, Russia, Lithuania…

By working from generations we think of successive generations.